Kewanee High School


Class Of 1959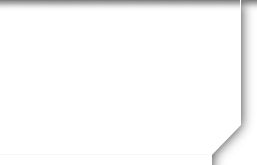 Scrapbook X
11/19/2009 - Some of the reunion committee having a get-together at the Pioneer Club in Kewanee. It is good to see Iradj out and about! Their message to the class, "We miss all of you!"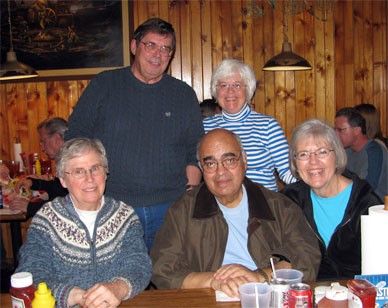 >
11/29/2009 - Girls Coffee


L to R: Patricia Grier Tomsic, Carol DeLathouwer Carpenter, Jeanne VanNieuwenhuyse DeConinck, Beth Swanson Taheri, Nancy Anderson Parker, Marvel Lee Freeland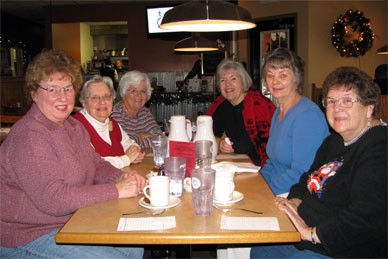 >

>

3/31/2010 - Kay and Jack rode into town on their bike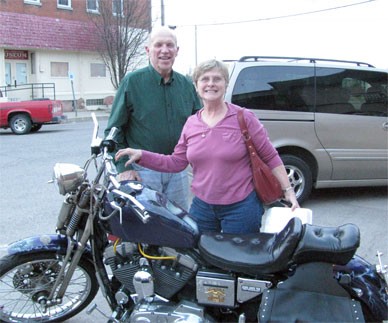 >
3/31/2010 - Larry rode into town with his camera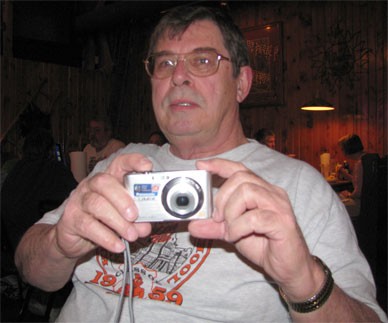 >
3/31/2010 - The committee posing after dinner at the Pioneer Club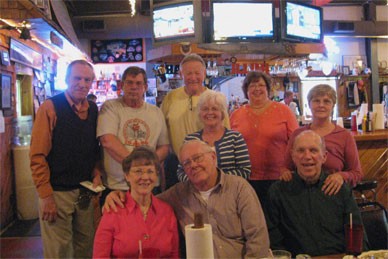 >
Over-the-road trucker Carol Kolata on the road somewhere between Kewanee and New Jersey. Picture taken by her co-pilot and navigator Jeannie DeConinck. Notice how these two experienced haulers use a pull-thru so they won't have to back-up. Have Jeannie tell about their misadventure when the door on the U-haul came up while driving. I am happy to report that both of these road warriors are alive and well! And John Kolata has stopped singing:
"Did they ever return,
No they never returned
And their fate is still unlearn'd
They may ride forever
On the pavement of I-80
They are the women who never returned."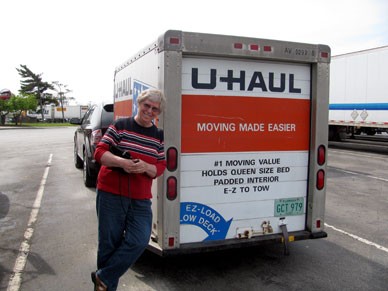 >
Gathering at Pioneer Club - May 14, 2010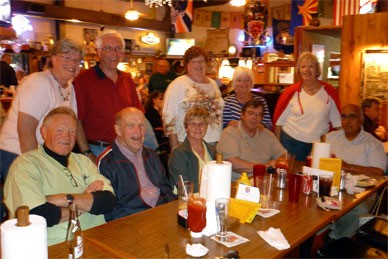 >
May 14th gathering arranged by an angel - guess who is the angel in this picture!!! (see her halo?)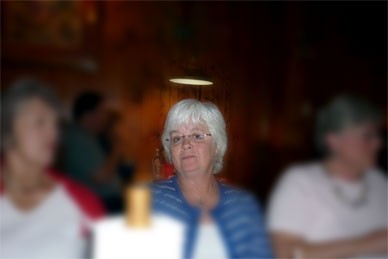 >
May 14th - Ron Swift and Larry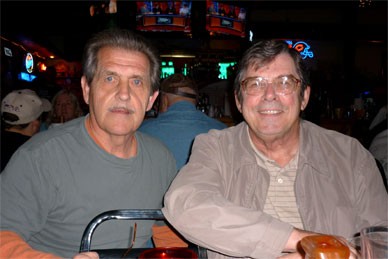 >
May 14th - Jeanne and Ron Welch '60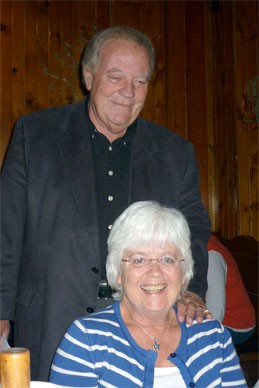 >
May 14th - Kay and Larry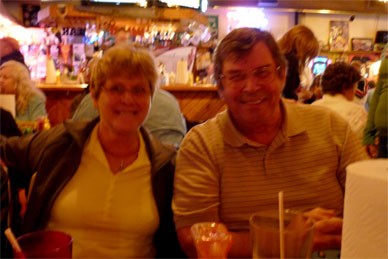 >
May 14th - Jeannie, Cyndy & Charlie Webb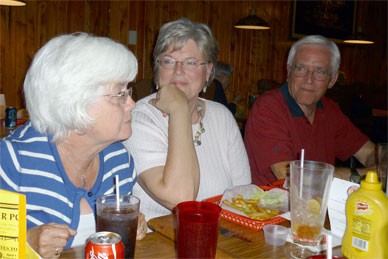 >
What is your guess of the year of this photo?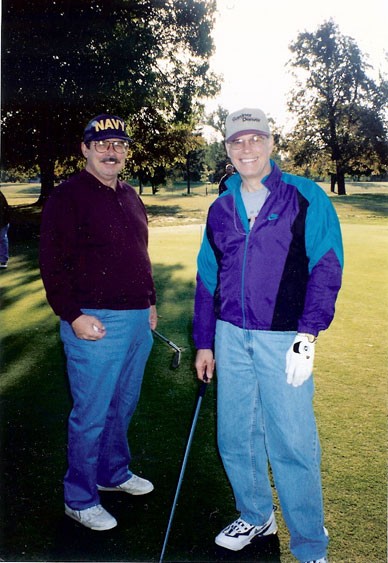 >
Pioneer Club Gathering 7/01/2010 - Sorry we missed you! But we all had a good time, good food, and great conversation!
Front row: Janet Balsis McPheeters, Mary Ann Boylan Hawksworth, John Kolata, Carol Kolata, Jeannie DeConinck
Back row: Bob McPheeters, Jack Heaton, Kay Heaton, Chuck Hawksworth, Charlie Webb, Cyndy Webb, Ted & Karen Oldeen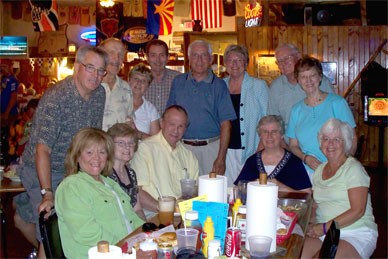 >
This photo was taken Friday, August 16th at the Grill & Chill restaurant. The get-together was to welcome Trish Dickson who was in Kewanee for a couple of days. She now lives in the state of Washington. What a great turnout! Those attending: Front row: Trish, Bonnie Nash, Beth Kay Taheri Back row: Nancy Parker, Lorene Tuthill, Karen Ramsey, Pat Tomsic, Jeanne, Delores Lindstrom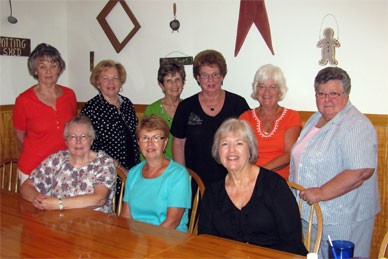 >
Recent picture of a class breakfast. In case you are wondering who the guy is: It is Arnie Smith - it is good to see him out and about!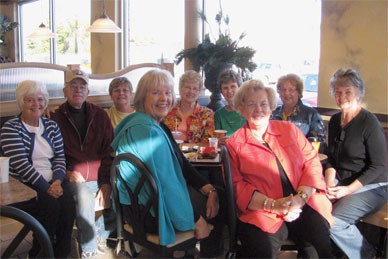 >
Earlier picture of a class-get-together.
>
Let the fun begin! Picture of classmates who have signed up for Hawaii trip. Picture taken at Jeannie's house after our first meeting. From left to right: Ted and Karen Oldeen, Dave and Julie McIntire, Cyndy and Charlie Webb, Dorothy Goodwin (friend of Jeannie), Bob and Janet McPheeters and Jeannie DeConinck.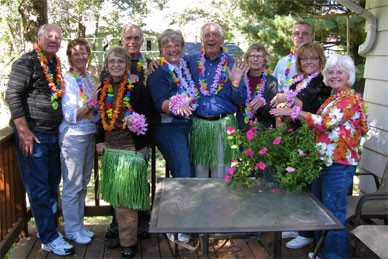 >
Cyndy trying to help Charlie into his grass skirt.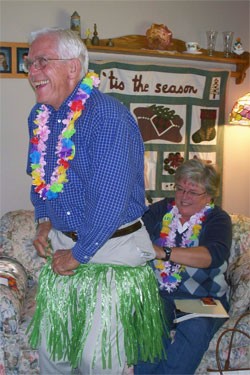 >
Not sure what this picture looks like but it appears that Dave is helping Janet stuff a dollar bill into Charlie's grass skirt!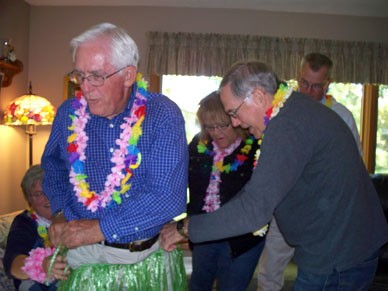 >